9 Best Apps For Finding Sex (Dec. 2023)
The best apps for finding sex provide a solid option for people who are not looking for anything serious. But because this niche category is so popular, it can be daunting to decide which to choose. 
The good news is that as the market continues to expand, more apps and sites offer free versions, and unlike more traditional dating apps, they don't require users to answer a bunch of questions or write out a biography. 
Whatever your sexual orientation, many sites and apps can satisfy your appetites. This article explores the 19 best choices for finding potential dates and casual hookups.
Overall Best | Gay & Lesbian | Seniors | FAQs
Overall Top 10 Apps For Finding Sex
Here is a run down of the top apps for finding like-minded people interested in a casual encounter with a stranger online.
1. BeNaughty
BeNaughty is a casual sex app and site that gives users the option to either browse profiles and participate in chats anonymously or dig a little deeper and provide more details about themselves. The dating site requires users to specify their age, gender, and sexual orientation, but every other detail (including photos) is optional.
Relationships: Hookups, Chats
Match System: Search by encounter, location, and more
Our Experts Say: "BeNaughty is a premier hookup app where you can feel comfortable expressing your desires. Plus, it's free to join, browse, and flirt…" Full Review »
Browse Free: View Photos Now
| | | | |
| --- | --- | --- | --- |
| User Base | Gender Ratio | Popularity (Visits/Mo.) | Today's Deal |
| All Singles* | | 13.3 Million* | Browse Profiles Free |
Another way that BeNaughty distinguishes itself from some of the competition is in the communication dynamics. All female app users can chat for free on BeNaughty — as long as they have an approved profile picture. The messaging features for male users are more limited — but membership upgrades provide more access.
BeNaughty's key features include the photo book of profiles that users can browse and like or pass, and the ability to browse more or less anonymously. With a user base that shakes out to roughly 48% men and 52% women, the odds of finding someone for a casual relationship or sexual encounter are very high. The site only welcomes singles — no polyamorous or swinging couples — but it's a trusted site for flirty sex seekers.
2. AdultFriendFinder (AFF)
AdultFriendFinder takes the top spot on this list for a few reasons: Its user base numbers over 105 million, and it has maintained a good reputation in the casual sex space for decades. Launched in the 1990s, the AFF community has continued to grow and has become more inclusive while sticking to the core premise of being easy and stress-free.
AFF does have an app available across Android and iOS devices, but after Google and Apple purges of adult content, it's a little tricky to download it onto your phone. You can download the app manually, or simply access the mobile version of the site on your device's web browser.
Relationships: Hookups Only
Match System: Search by location, interest, more
Our Experts Say: "Make no mistake: this site isn't about making friends, it's about finding hookups and casual encounters. No adult site has a larger or more active user base of those seeking discreet fun…"
Browse Free: View Photos Now
| | | | |
| --- | --- | --- | --- |
| User Base | Gender Ratio | Popularity (Visits/Mo.) | Today's Deal |
| All Singles* | | 25.5 Million* | Try It 100% Free |
It's incredibly easy to sign up to Adult Friend Finder. All you have to provide to join the hookup site is an email address, age, and ZIP code. Free members can participate in the public forums and search for potential matches. A premium membership provides extra perks, including private chatting and access to exclusive video content and members-only forums.
The site's membership skews strongly in favor of men (65% men to 35% women), but with over 25 million monthly visitors, the odds are strong that anyone can find a live chat connection. AFF is also open to poly couples and trans individuals who are seeking casual sex.
3. FriendFinder-X
FriendFinder-X combines some of the features of other more conventional match sites that anyone seeking a casual hookup would appreciate. The site is both for swingers/polyamorous couples and for singles, and guides users in finding the right matches through recommendations based on selected preferences.
In addition to the matching service, the site provides other methods of spicing up the bedroom, including porn in both video and written formats.
FriendFinder-X has more specific matching filters, including age, weight, and appearance. But it's still possible to remain anonymous, since the only thing the site requires for signup is an email address for verification purposes.
Relationships: Hookups Only
Match System: Search by location, interest, more
Our Experts Say: "A hookup site specializing in casual encounters, secret affairs, live chats, and member videos, FriendFinder-X skips the awkward "dating" stage of a relationship and fast-forwards straight to the sex…"
Browse Free: View Photos Now
| | | | |
| --- | --- | --- | --- |
| User Base | Gender Ratio | Popularity (Visits/Mo.) | Today's Deal |
| Singles & Couples* | | 1.2 Million* | Browse Members Free |
Free-level members can browse X-rated content, explore the chat room and photo gallery, and send "likes" to profiles that catch their fancy. However, the ability to message someone who seems like a promising match only comes with a paid subscription. 
Couples in an open relationship can share the cost of a paid subscription, and each can message other members separately. 
While FriendFinder-X is also a site and not an app, it's accessible across mobile platforms–and this has the benefit of not having to download anything, and making it a little easier to keep things discreet.
4. Flirt.com
Some people want their hookup site experience to have a little more flirtation and playful banter before getting to the main event. Flirt.com plays host to approximately 1 million visitors a month, and they're all chatty and flirty.
The user base has an even gender ratio, with a slight female majority (52%), and supports casual dating as well as hookups. The communication process on the app is skewed in favor of women, too. Female site users can read incoming flirts and send unlimited free messages, while male subscribers will have to pay for premium access to enjoy similar perks. Membership costs less than $1 per day, however, so it's still very reasonable.
Relationships: Hookups, Casual Dating, Chats
Match System: Search by age, location, gender, orientation, and other factors
Our Experts Say: "Flirt.com frees singles to chat with attractive locals and pick up dates on the spot. This hookup site is always open to horny and sexy people seeking one-night stands, casual dating, threesomes, and other sexual encounters…"
Browse Free: View Photos Now
| | | | |
| --- | --- | --- | --- |
| User Base | Gender Ratio | Popularity (Visits/Mo.) | Today's Deal |
| All Singles* | | 1 million* | Browse Profiles Free |
Outside of private messages, users can talk in the live chat window, and send virtual winks or photos. Another great perk of Flirt.com is that the distance parameters are automatic, so singles don't have to worry about whether the person they're talking to is close enough to make the effort worthwhile. Overall, Flirt is a great option for people who want an all-around casual situation — sex included.
5. Ashley Madison
Ashley Madison was created to help facilitate affairs and secret relationships, and that still makes up a fundamental core of the site's function. But the hookup app and site aren't only for married people anymore; a lot of singles have joined as well, both those looking to be part of an affair and those looking for a casual hookup or date.
With over 65 million visitors, the site has become a juggernaut in the casual dating and hookup space. It's worth noting that the platform's membership slants very strongly toward males, but the odds are still good for men to find the right woman.
Relationships: Hookups, Casual Dates, Affairs
Match System: Search by age, location, appearance, and more
Our Experts Say: "With its massive user base and advanced privacy features, Ashley Madison is the #1 site for discreet hookups, dates, or relationships…" Full Review »
Browse Free: View Photos Now
| | | | |
| --- | --- | --- | --- |
| User Base | Gender Ratio | Popularity (Visits/Mo.) | Today's Deal |
| All Singles & Attached* | | 65 Million* | Start Now for FREE |
The biggest selling point for Ashley Madison is its privacy features, including profile photo blurring options, discreet profiles with as much or as little information as you feel comfortable providing, and nondescript design. It's an ideal choice for someone who wants to keep their hookup activity as private as possible.
The dating app is hugely popular, and about 60% of the user base surveyed said they were looking specifically for casual sex encounters, so it's definitely worth looking into — no matter your relationship status.
6. Tinder
While Tinder has insisted in the past that it supports any kind of relationship, there's a good reason that the app has gotten a reputation as a hookup app rather than a more traditional dating app. 
You can sign up to Tinder with a Facebook account, but it isn't necessary, and the app doesn't post anything on your social media account. 
The platform invented swipe-based matching, and between the algorithm and putting control in the user's hands, there are no unsolicited messages. 

Tinder also has a major benefit in the sheer volume of its user base. The Android app and the iPhone app have been downloaded approximately 430 million times, and its huge active membership spans 190 countries.
While Tinder allows anyone to sign up and start swiping for free, premium members get access to special features including unlimited swiping and Super Likes, and some added perks to profile visibility. In an anonymous poll, 22% of users said that they were looking for casual sex, so it's definitely a good choice for horny adults.
7. Pure
Pure offers an excellent incentive for anyone who wants to speed-run their casual encounter. Conversations on the app automatically delete after 24 hours, and submitted photos self-destruct as soon as they are viewed. 
In addition to these functions, user dating ads are only visible while users browse on the app, and all in all the features encourage shameless, direct sexting, hookups, and kink matching.

Pure rates highly on maintaining anonymity and privacy, and includes text messaging, voicemail, and video chat options that blur faces but nothing else to speed things up in whatever way users want.
The app has been downloaded over 8 million times across the App Store and Google Play, and issues a sex-positive and kink-positive challenge to its users to hook up as quickly as possible and as often as they want.
8. DOWN
DOWN gives its user base the benefit of being up front from the very beginning. Every potential match on the online dating app requires users to identify their choice: Do they want a date or a hookup?

The process is simple: DOWN presents matches, and the user swipes up for "date," down for "hookup," and left to pass on the potential match altogether. While you can use your Facebook profile to speed up the signup process, the app doesn't post anything to Facebook. In fact, the app won't show up in any searches from other Facebook users, ensuring privacy.
9. SaucyDates
SaucyDates is a mobile-friendly website that caters to sex-driven people. It is on the smaller side in the free hookup app category, but the membership is steady and the company has been around since 2007. Like so many of the apps in this category, SaucyDates doesn't just offer matchmaking, but also live adult content to keep your motor running while you plan your hookup.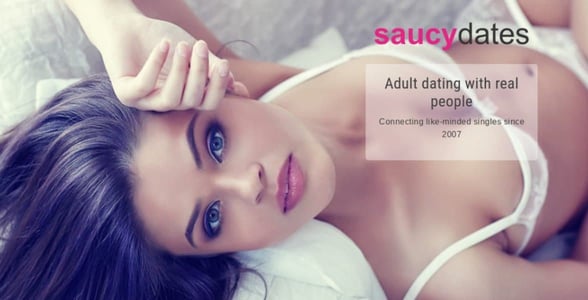 Account setup can take a little more time than average, since the app asks each question one by one; however, SaucyDates is very inclusive with regard to gender, sexual orientation, and relationship status — even allowing couples' accounts. 
Free subscribers can send "hot" messages — basically a "like" — but can't send direct messages, nor read them. Premium membership grants the ability to send unlimited messages globally and removes ads from the experience. 
10. Plenty of Fish
Plenty of Fish (POF) differs from many of the other sites and hookup apps on this list in that it actually allows free messaging services, no premium membership required. That being said, the messages aren't unlimited. Users looking for a casual encounter can only send up to 55 unsolicited messages per day.

The POF site and app are free to use, and since the service has been around for over 20 years, it's a trustworthy resource for any woman or man looking for a potential hookup. 
Another way that POF distinguishes itself from the pack is its unusually strict community guidelines. Users can't share nude pics, and posting contact or social media info in your profile is also against the rules. The site and app also screens new members with a personality quiz, and incomplete, suspicious, or inactive profiles are deleted periodically. For those who want their sexual encounter with a little more security, POF is a solid option.
Best Gay & Lesbian Apps For Finding Sex
For many in the LGBT+ community, traditional dating apps and even the hookup app platforms can be dangerous. The vulnerable communities tend to face a lot of harassment on sites and apps that have mostly straight user bases, so safe spaces to meet a like-minded woman or man for a hookup are definitely necessary. 
These sites and apps help gay and lesbian users seek out a casual sexual encounter without the risks that tend to come with more traditional apps. And while they aren't the only ones out there, they're definitely the most legit.
11. LesbianPersonals
While LesbianPersonals is open to both single women and couples (same-sex or different-sex), the hookup site definitely makes it easy for a woman to find a hookup with another woman. 
The mobile-friendly site features erotic blogs, video chat streaming, and private discussion boards with a wlw focus. New users complete a quick survey and submit an email address, and gain nearly full access to the site.
Relationships: Hookups Only
Match System: Search by location, interest, more
Our Experts Say: "LesbianPersonals provides a fun, quick, and easy experience for gay and bisexual women looking for sex online. Join for free, and you'll be able to search and communicate immediately…"
Browse Free: View Photos Now
| | | | |
| --- | --- | --- | --- |
| User Base | Gender Ratio | Popularity (Visits/Mo.) | Today's Deal |
| Singles & Couples* | | 500,000* | View Profiles Free |
There are benefits to premium membership, including access to complete profiles, unlimited live member webcams, and full direct message access. Premium members can also participate in contests and have access to the site's Sex Academy features. 
While men in an open relationships with women are allowed on the site, the membership is at or over 90% women, all lesbian, bisexual or otherwise same-sex attracted. So it's a safe environment to explore attraction to queer women and act on your desires for a hookup.
12. MenNation
For just over 20 years, MenNation has been a platform for men to seek out other men for casual encounters. Not just for the gay man, MenNation is also open to bisexual, bi-curious, pansexual and other queer men interested in online dating and hookups with other men.
The lack of judgment and labels extends to the types of interactions men can seek out on the hookup site as well. MenNation bills itself as the kind of place where a man can find swingers, orgies, the occasional threesome, and straightforward hookups, among other scenarios — something for every taste.
Relationships: Daters & Hookups
Match System: Search by age, zip code, more
Our Experts Say: "MenNation is a well-established gay dating and hookup brand, having been founded in 1996. It's totally free to join, view profiles, receive matches, and flirt…"
Browse Free: View Photos Now
| | | | |
| --- | --- | --- | --- |
| User Base | Gender Ratio | Popularity (Visits/Mo.) | Today's Deal |
| Singles & Couples* | | 780,000* | Start for Free |
The user base can search for matches by age, zip code, and other categories, or take a chance in the public chat rooms. The ability to send messages and private messaging are only available to premium members, who can also send tips, virtual gifts, and other benefits to free-level users. 
MenNation can help steer you in the right direction whether you are in search of a gay man looking for anything, a sugar daddy, a hookup, or a wild sexual adventure.
13. Grindr
Grindr has established itself for over a decade as the gay dating app to beat if you're a gay man who wants the flirtatiousness of a dating app like Tinder, but also the safety of a social platform that caters to gay men. 
While technically nothing is stopping a man from using Grindr to seek new friends or more serious romantic prospects, the majority of the app's users are seeking a casual encounter, according to Grindr's reporting.

Like Tinder, the Grindr app suggests matches based on location. While signing up is free, membership at that level limits the number of profiles users have access to and also somewhat limits the contact options. 
Premium members with Grindr Xtra have unlimited access to profiles and can also expand their options through international searches. It can also tighten the criteria based on height, weight, body type, ethnicity, relationship status, and other factors. 
With almost 4 million active daily users, and an accepting atmosphere toward sexuality and gender identity, Grindr is a safe hookup app option for men seeking other men for a sexual encounter.
14. HER
HER doesn't market itself to the hookup app scene, but it is one of a surprisingly small number of lesbian dating apps to cater exclusively to women. The platform welcomes all lesbian identities, including transgender individuals, queer women, bisexual, pansexual, bi-curious and beyond — but it's specific to women seeking women. That means no men allowed.
One of the features that makes HER a safe space for the queer woman is the effort the dating app puts toward keeping men, fake profiles, and trolls out of the space. Another major component is the fact that it's entirely free to use.

The app does require Facebook authentication, but doesn't post to Facebook, so women who are less public about their desire for a lesbian sexual adventure can rest easy.
The HER app features women representing most age demographics and a variety of ethnicities. While the majority of the user base lives in urban areas, there are active users in rural areas as well. 
Its ease of use, intuitive features, and security make HER a strong up-and-comer in the still-limited lesbian dating app market. If you're an adventurous queer woman looking for a hookup, a threesome, casual dating, or even something a little more serious, it can get the job done.
15. OkCupid
While OkCupid technically isn't solely for the LGBTQ+ community, the dating site and dating app has done a lot of work to make itself as inclusive and safe as possible for LGBT+ members looking for hookups and relationships alike. 
The site has been around since 2004, with an app that's been around for almost a decade. The dating site and app moved to solidify their position as a safe space for LGBTQ+ members in 2014, offering expansive voluntary self-identification markers including pansexual, asexual, agender, transgender, and genderfluid categories, among others.

OkCupid also sets itself apart from the competition by offering free messaging to all members, along with free access to matches, basic search filters, and the other core features of the site. Premium members, called A-List members, also get to see who has "liked" their profile, advanced search features, an ad-free experience, and some visibility boosts.
While technically OkCupid isn't just for hookup purposes, it makes it easy for those who are there for a good time and a light sexual adventure to identify themselves up front. You can seek out LGBTQ+ people who want a casual date rather than a serious relationship easily, whether on the app or the site.
Best Senior Apps For Finding Sex
Single seniors aren't only looking for wholesome relationships, and with the rise of self-identified MILFs, DILFs, cougars, and silver foxes, it's a good time to be a senior looking for a casual relationship. 
More than one free hookup app caters to the senior demographic, offering the usability of platforms like Tinder and OkCupid with a more exclusive user base. The best apps for finding sex that target single seniors tend to incorporate a little more in the way of safety and security features, and focus on ease of use and added value.
16. Tinder for Seniors
Just like the name says, Tinder for Seniors takes the features that made Tinder so successful in the dating app scene, and condenses them into a senior-friendly format for an all-senior user base. While other hookup app options may have a larger user base, Tinder for Seniors focuses on quality.
One of the app's key features is the accessibility of help options, including a forum, a counselor, and customer support options readily available. The app also does an intensive job of screening for fake profiles and scammers, making it a safer environment for seniors who might be a little more vulnerable and less savvy to the red flags.

The features on the free hookup app are intuitive and pared down to what a single senior needs to find like-minded people: the ability to view profiles, send messages, and arrange dates. The app doesn't just keep things simple in the functions department, either; large text and step-by-step instructions help keep things easy. 
While the basic features are available for free and any user can find a date without paying a dime, there are benefits to paid subscription, including more advanced search filters and other goodies. For seniors who want the app experience of Tinder with a community closer to their own age, Tinder for Seniors is a great choice.
17. SeniorFriendsDate
Many seniors prefer the website experience as opposed to smartphone and tablet apps. SeniorFriendsDate is a comfortable and simple option for them. Profiles on SeniorFriendsDate, which is part of the larger FriendFinder network, are easy to set up, with optional questions and no complicated verification systems.

Most of the basic features are free, but there are upgrades available, including messaging a potential partner and enjoying other features at both the Silver and Gold levels. SeniorFriendsDate serves up matches based on location, and in addition to the matchmaking activities, users can also enjoy senior-focused adult content on the site.
While SeniorFriendsDate doesn't offer an app, the site is fully mobile-friendly, so it's a strong choice for seniors who want to take their experience across devices.
18. CougarD
Older women are increasingly embracing their sexual sides, and apps like CougarD help make it easier for mature women to seek out younger men. While CougarD has only been around since 2016, the app has a rapidly expanding user base, and its popularity comes from solid features and quality structure.
A major selling point for CougarD is the security protocols. The app uses AI-powered facial recognition and other features to screen for fake profiles and to shield the women on the app from potential scams and other predatory behaviors. 

The match interface is also very simple to navigate. The app presents potential partners based on location and categories set by users. Members then have the option to click the heart icon to indicate they're interested, and if there's a mutual match, both users can start a private conversation including text, voice, and pictures.
With over 150,000 sign-ups each month, it's a growing platform for age-gap relationships between mature women and charming younger men.
19. Seeking.com
Seeking.com, also known as Seeking Arrangement, features wealthy and comfortable older patrons and attractive young singles who are looking to develop "sugar" relationships. While sugar daddies and sugar mamas of any age can sign up, the demographic for that side of the arrangement does tend to skew older.
While those seeking sugar patronage — generally women age 18-25 — are able to message anyone, only premium sugar daddies and sugar mamas can send first messages. The platform is definitely not for the budget-conscious single senior, with premium subscriptions starting at almost $100 per month. 

But if money is no object, and you're a single senior looking to find a younger partner for a casual encounter, Seeking.com is an excellent option. The site features resources about sugaring for both sides of the relationship, and patrons can learn about their prospective partners, including desired gifts and allowance figures and so on.
The site incorporates background checks and income verification, among other features, to help prevent scams and fake profiles. And membership shows more sugar babies than sugar daddies and mamas so a prospective sugar daddy will have plenty of prospective partners to choose from.
Frequently Asked Questions
Online daters can have a lot of sensitive questions about the casual sex scene, so we've addressed some common queries we've seen among adult sex seekers.  
How Do You Use An App to Find Sex?
Once you have decided on the hookup app or hookup site of your choice, you can start to use the different filtering and search options to find the right like-minded person for a casual encounter. 
Most of the apps and sites in this list offer a default filter for location, though premium members can search a wider area (or even internationally!). Some of the apps and sites also allow their user base to filter by interests, sexual orientation, types of encounters they're interested in, height, age, weight, build, and so on. BeNaughty allows for searches to contain only profiles with photos.

A few of the apps and sites in this list require a mutual match before you can begin communicating. For example, Tinder requires both members to "like" each other's profiles before either can message the other. There are also some sites on the list that only allow premium members, or only allow women, to reach out to a potential partner. 
From there, make sure you're within the communication restrictions of your app or site of choice (Pure, for example, requires you to get the job done within 24 hours), and set up the encounter you're looking for.
Are Sex Apps Free for Everyone?
All of the apps on this list are free to register or sign up for. That being said: many of them do have restrictions on what you can do within the app or on the site if you're a free member. On AdultFriendFinder for example, only paid subscribers can watch videos, send messages, and participate in paid member forums.
Is Tinder Just For Hookups?
Technically, no. However, it is popular for that reason. Approximately a quarter of the user base on Tinder say they're specifically looking for hookups and casual sex. Reports vary, a majority of the membership are open to casual hookups, even if they're not explicitly looking for them.
Are Sex Apps Legit? How Can You Tell If Profiles Are Real?
Most of the apps you find on Google Play for Android or the App Store for iOS are legit, and many more that aren't on those platforms due to adult content restrictions are also the real deal. 
However, it's true that there are bad actors out there, and it's important to know how to identify them. If you have doubts about the free hookup app you're looking at, look at its terms of use and community guidelines. While these can be a dense read, they'll give you a hint as to how seriously the app takes security, as well as raise any red flags.
Once you're on the app or site, there are also a few ways to identify scammers. While specific goals may vary, a few behaviors are consistent:
Putting off meeting in person
Pushing you to take the chat off-site/off-app as soon as possible
Asking prying questions about your job, financial status, etc.
Sharing dramatic sob stories or tragedies very early on
Too many repetitions in phrases or words
Inconsistencies in their story
All of the sites and apps featured in this list have easy methods for reporting suspicious accounts, and the platforms work to remove potential scammers, bots, and other fake profiles as quickly as possible.
Is eharmony Good For Finding Sex?
No, the eharmony service is not good for finding sex. The dating site and app are both intended for people seeking serious relationships, and those looking for casual encounters are heavily discouraged. 
What Are Some Mainstream Dating Apps with Free Messaging?
Mainstream dating apps have several options available if you're open to something more serious and you consider free messaging an important feature. Match.com allows limited free messaging between mutual Top Picks. Facebook Dating offers free messages through the existing Facebook platform. 
Another online dating platform that allows free messages is Coffee Meets Bagel, which started in California almost 10 years ago. Since 2004, OkCupid, has made free, and mostly unlimited messaging a cornerstone of its platform. Finally, there's Bumble, which does allow for free messaging, but the woman must message first.

Online dating sites and apps aren't the only way to connect with a new love interest. Reddit isn't a dating app or site, but it has sub-forum options akin to old-school personals ads that are titled "r4r" or Redditor for Redditor. Since Reddit does allow messaging in the site for free, this is another option to consider if you don't want to invest money in your casual sex experience. Of course, the site has the usual geographic limitations, among others.
It's worth noting that most of these options do require a mutual match of some type before any message can go through, and some apps, like Bumble, will only allow one side to initiate messages — so keep that in mind when making your choice.
Raunchy Adults Come Together on the Best Apps for Finding Sex
Regardless of their sexual orientation, people looking for a casual encounter have a lot of options despite some past scandals with apps and sites for finding sex. 
You can keep your dating life casual and find plenty of like-minded people who are looking to get down and dirty with no strings attached on the best apps for finding sex. The apps and sites are free to join, and many offer at least limited free messaging options, so you've got a lot to gain by taking your casual encounter game pro. Go forth and hook up!
Advertiser Disclosure
DatingAdvice.com is a free online resource that offers valuable content and comparison services to users. To keep this resource 100% free, we receive compensation from many of the offers listed on the site. Along with key review factors, this compensation may impact how and where products appear across the site (including, for example, the order in which they appear). DatingAdvice.com does not include the entire universe of available offers. Editorial opinions expressed on the site are strictly our own and are not provided, endorsed, or approved by advertisers.
Our Editorial Review Policy
Our site is committed to publishing independent, accurate content guided by strict editorial guidelines. Before articles and reviews are published on our site, they undergo a thorough review process performed by a team of independent editors and subject-matter experts to ensure the content's accuracy, timeliness, and impartiality. Our editorial team is separate and independent of our site's advertisers, and the opinions they express on our site are their own. To read more about our team members and their editorial backgrounds, please visit our site's About page.