7 Best NSFW Dating Sites (Dec. 2023)
NSFW dating sites are "not safe for work." That means, if you're in the office, you wouldn't want to be caught browsing these X-rated platforms. One glance at the naked pics and strip videos would leave little doubt about what you're up to on company time.
It's risky to open an NSFW dating site, even in an incognito browser, because its URL, dating personals, and erotic content all scream inappropriate to the nth degree.
However, if you're off the clock, feel free to explore the following porn sites and sex apps as much as you please and enjoy erotic encounters on your terms.
Relationships: Hookups Only

Match System: Search by location, interest, more

Our Experts Say: "Make no mistake: this site isn't about making friends, it's about finding hookups and casual encounters. No adult site has a larger or more active user base of those seeking discreet fun..."

Browse Free: View Photos Now
| | | | |
| --- | --- | --- | --- |
| User Base | Gender Ratio | Popularity (Visits/Mo.) | Today's Deal |
| All Singles* | | 25.5 Million* | Try It 100% Free |
Since its launch in the 1990s, Adult Friend Finder has established one of the world's largest sex and swinger communities. Over 102 million people have joined this X-rated fan club and gotten their rocks off watching pornographic videos and sexting strangers.
The personals section on the adult dating site has the occasional naked or risque photo, but the live model shows are where the real inappropriate action is. You can search for videos of strippers, sex workers, and camgirls who know exactly what they're doing.
Do not enter the AFF community unless you are in a private location away from prying eyes. The porn site can be very graphic, and it's definitely for adults only.
Relationships: Hookups, Chats

Match System: Search by encounter, location, and more

Our Experts Say: "BeNaughty is a premier hookup app where you can feel comfortable expressing your desires. Plus, it's free to join, browse, and flirt..." Full Review »

Browse Free: View Photos Now
| | | | |
| --- | --- | --- | --- |
| User Base | Gender Ratio | Popularity (Visits/Mo.) | Today's Deal |
| All Singles* | | 13.3 Million* | Browse Profiles Free |
BeNaughty is a sex-driven online dating site that has a lot of flirtatious options available 24/7. Its match list prioritizes singles who live, work, or go to school in your area, and you can narrow or widen the location parameters to see what's out there.
BeNaughty doesn't shy away from publishing adult content (as in, dick pics and other naked photos), but it does allow premium members to blur some or all nude pictures, if they wish. Plus, you can go into your settings and choose Safe Mode if you'd rather keep things clean and automatically remove unverified members, inactive accounts, and fake profiles from your search list.
Relationships: Hookups, Casual Dating, Chats

Match System: Search by age, location, gender, orientation, and other factors

Our Experts Say: "Flirt.com frees singles to chat with attractive locals and pick up dates on the spot. This hookup site is always open to horny and sexy people seeking one-night stands, casual dating, threesomes, and other sexual encounters..."

Browse Free: View Photos Now
| | | | |
| --- | --- | --- | --- |
| User Base | Gender Ratio | Popularity (Visits/Mo.) | Today's Deal |
| All Singles* | | 1 million* | Browse Profiles Free |
Singles can instantly up their dating game by joining Flirt.com. This hookup website has over 70 million users in North America and Europe, and it is rapidly expanding worldwide.
It's free to swipe on profiles on Flirt.com, and members can send likes to a guy or gal who catches their eye. All free members have some private messaging tools at their disposal, but it's worth looking into the upgrade options to unlock more conversation windows and use more security features — including incognito browsing.
We've ranked Flirt.com as one of the best sex chat sites for singles because its database is full of real people (not bots or catfishers), and the online chats tend to escalate quickly from "sup girl" to "when can I come over?" because everyone is there to find a casual hookup.
Relationships: Hookups, Casual Dating, Chats
Match System: Search by location, age, and appearance.
Our Experts Say: "OneNightFriend is a dating website that provides a fast track to a one-night stand with a flirty partner. The network has chat rooms, search filters, and safety features to help spark real connections..." Full Review »
Browse Free: View Photos Now
| | | | |
| --- | --- | --- | --- |
| User Base | Gender Ratio | Popularity (Visits/Mo.) | Today's Deal |
| All Singles* | | 500,000* | Browse Profiles FREE |
OneNightFriend.com is a dating site with lots of fun photo galleries and features for sexually active adults with some time to kill.
OneNightFriend users are open-ended individuals who are looking for a sexting adventure or dream date that fulfills their fantasies. Basically nothing is too kinky for this nonjudgmental crowd. No content is too explicit, and no message is too forward.
We've ranked the OneNightFriend site and app on our list of NSFW dating sites because it features a lot of explicit content that is definitely for adult eyes only. The hookup site is mobile-friendly, and it has multiple security features to keep sex workers from abusing the system.
Relationships: Hookups, Casual Dates, Affairs
Match System: Search by age, location, appearance, and more
Our Experts Say: "With its massive user base and advanced privacy features, Ashley Madison is the #1 site for discreet hookups, dates, or relationships..." Full Review »
Browse Free: View Photos Now
| | | | |
| --- | --- | --- | --- |
| User Base | Gender Ratio | Popularity (Visits/Mo.) | Today's Deal |
| All Singles & Attached* | | 65 Million* | Start Now for FREE |
First of all, we have to hand it to Ashley Madison for being a scandalous and anonymous place to meet someone new. As an affair dating site, Ashley Madison is open to adults who get all a-twitter at the thought of having sex in secret.
Whether you're single, in a relationship, or married, you can join Ashley Madison to browse local dating profiles and jump on romantic opportunities — just make sure you're not at work when you open this dating app!
Women can send as many private messages as they please through the Ashley Madison dating site or app. However, men cannot answer these flirty chats unless they subscribe to a paid membership plan. You can find a breakdown of how much Ashley Madison costs in our full review.
Relationships: Hookups Only

Match System: Search by location, interest, more

Our Experts Say: "A hookup site specializing in casual encounters, secret affairs, live chats, and member videos, FriendFinder-X skips the awkward "dating" stage of a relationship and fast-forwards straight to the sex..."

Browse Free: View Photos Now
| | | | |
| --- | --- | --- | --- |
| User Base | Gender Ratio | Popularity (Visits/Mo.) | Today's Deal |
| Singles & Couples* | | 1.2 Million* | Browse Members Free |
FriendFinder-X was created by the same company that launched AFF. That means it has similar content, but an entirely new membership base. As soon as you create an account, you can always practice your pickup lines and watch sexy videos on this adult dating website.
Single professionals don't have to worry about outing themselves or publicizing their love life in this anonymous chat room. FriendFinder-X only requires users to provide the basic personal information — an email address, username, gender, and age to complete a basic dating profile. You don't even need a profile picture to become a follower of the NSFW content.
Relationships: Daters & Hookups

Match System: Search by age, zip code, more

Our Experts Say: "MenNation is a well-established gay dating and hookup brand, having been founded in 1996. It's totally free to join, view profiles, receive matches, and flirt..."

Browse Free: View Photos Now
| | | | |
| --- | --- | --- | --- |
| User Base | Gender Ratio | Popularity (Visits/Mo.) | Today's Deal |
| Singles & Couples* | | 780,000* | Start for Free |
MenNation offers an unfiltered and X-rated playground for gay, bisexual, queer, and questioning men in the dating scene. A guy doesn't have to come out of the closet to enjoy a little sexting and watch a private strip show on this hookup website.
MenNation is a strictly 18-and-older platform, so don't be surprised if your online crush asks for a dick pic or takes the initiative to send one to you. MenNation liberates a gay man or gay couple to be upfront about their sexual desires and pursue date prospects who fulfill their fantasies. The adult content on this server includes depictions of blow jobs and anal sex, so definitely do not dick around here if you are at work.
Relationships: Hookups Only

Match System: Search by location, interest, more

Our Experts Say: "LesbianPersonals provides a fun, quick, and easy experience for gay and bisexual women looking for sex online. Join for free, and you'll be able to search and communicate immediately..."

Browse Free: View Photos Now
| | | | |
| --- | --- | --- | --- |
| User Base | Gender Ratio | Popularity (Visits/Mo.) | Today's Deal |
| Singles & Couples* | | 500,000* | View Profiles Free |
LesbianPersonals is a kink-friendly and female-friendly hookup site geared toward entertaining single lesbians, lesbian couples, and polyamorous groups. It has lots of search tools, photos galleries, and video feeds available at the click of a button.
As a sister site of Adult Friend Finder and MenNation, LesbianPersonals has a lot of NSFW content. Members may see a video of a woman masturbating on the side bar, or they may see a nude photo where everything is hanging out there. So definitely steer clear of this website during office hours.
9. Tinder
The Tinder dating app has a global reputation as a fast-paced hookup scene. The app turns online dating into an entertaining game of Hot or Not, but it can be a major distraction if you don't know when to quit. Pro tip: It is not appropriate to swipe on Tinder profiles while at work.
A dating app like Tinder can offer an addicting match process, so it can be hard to leave all that flirtatious potential sitting unattended in your pocket or purse. If you feel addicted to online dating, you're not alone. Millennials spend about 10 hours a week swiping on dating apps, according to a Badoo survey.

Tinder does not sanction nudity. It will automatically flag and delete a dick pic or nude photo. However, sometimes singles get pretty naughty in their private chats, and their suggestive photos can leave little to the imagination. To be safe, it's best to put Tinder away while you're in an office setting.
Reddit has an entire Tinder NSFW page dedicated to sharing all the steamy encounters and interactions sparked by this dating platform.
10. Grindr
Many people think of Grindr as the gay Tinder, and they're not really wrong. Both apps use location-based matching and swiping to stir up romantic interest, and they're both prominent players in the hookup scene. The main difference is that Grindr is only for men seeking men.
Grindr has over 27 million users worldwide, and its adult content has aroused a lot of interest in the gay community.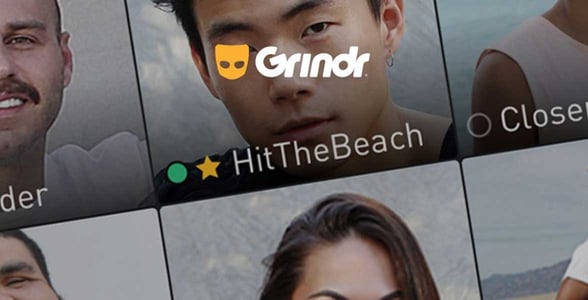 Grindr is a steamy place to get to know a hot guy. Gay men won't find too many wilting flowers on this dating app. In fact, sending a dick pic became such a common practice on Grindr that the app closed its photo-exchange feature. So now guys must get a phone number before they can send a sexy photo.
11. DOWN
As much as the DOWN app aims to stay on the down low, word about this hookup app has spread pretty fast among sex-driven adults. DOWN has been downloaded over 10 million times on Google Play and the App Store.
DOWN promotes 10 potential matches per day, and many of them have posted sexy photos to grab attention.

DOWN gives members two options before they swipe: Down or Date. If you choose Date, then you'll see the profiles of people looking for new friends and genuine connections. If you choose Down, then you'll see people who are also DTF — i.e. interested in a casual and exciting sex life.
"We're so used to people kind of sugar-coating the dating scene," DOWN's Co-Founder told us in an interview. "We wanted to give people a more honest way to connect with each other."
12. PURE
You should only use the PURE app to meet people if you're available to hook up within the same day. Even within the same hour. People are not messing around on this hookup app, and they're usually quick to suggest an in-person meetup at a local bar or coffee shop.
The PURE app encourages its users to move fast and fill their date calendar with casual flings. PURE only publishes the personal ads of folks who are online right now, and it deletes all chats within 24 hours. So there's no need to waste time with small talk — hurry up and get those digits!


Logging into PURE is similar to diving into a nightclub or bar because you can chat up anyone you see and you never know where the conversation will take you. Sex is always on the table in this flirtatious and anonymous scene.
PURE users are open to the idea of hooking up immediately — which means you better not be stuck at work!
13. HUD
HUD, which stands for "hookup dating," is an adult dating app where casual daters are in charge.
Online daters can expect lots of NSWF content on their feed when scrolling or swiping through HUD Dating profiles can even include a list of fetishes and kinks the person is open to exploring.
Whether you're a single, swinger, or even a polyamorous couple, HUD can open the virtual door to romantic opportunities and spice up a person's love life. The dating forum is a great place to start if you're new to the hookup or swinger scene and want to connect in a safe, private way for sexting or a one-night stand.
14. SaucyDates
Our team is a big fan of SaucyDates because the dating site is independently owned and run with stalwart integrity. A U.K. entrepreneur launched the hookup site in 2007 to foster a safe flirting environment for adults who want sex. Today, it has over 1 million users worldwide.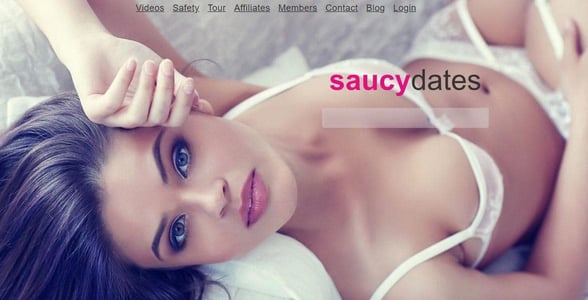 SaucyDates has a pretty generous photo policy. Nudity is allowed, and members are not required to show their face. However, the site's security algorithm will flag and delete photos that are offensive or fake. It will also deliver warnings when messages contain suspect or graphic content.
You can read our full review of SaucyDates to learn more about its security features and success stories.
15. Hookup Guru
The aptly named Hookup Guru website is a comprehensive guide with reviews on every popular porn site, sex app, and NSFW platform on the market. Its reviews are considered NSFW because they show screenshots and model photos that leave little to the imagination.

Hookup Guru is a popular place to get your bearings in the adult dating scene. So far, Hookup Guru has satisfied more than 846,000 users and counting.
The Hookup Guru team has done a lot of research in the sex scene so you don't have to. If you're not sure where to go to meet a sexy partner, swap sex stories, or watch a webcam model, don't sweat it — this online resource has got all that and more covered.
16. Mixxxer
The triple-X in the middle of Mixxxer should be a dead giveaway that this is a NSFW dating site. This mobile sex blog gives singles, couples, and groups direct access to an alluring photo gallery of nudes, and its private messaging tools allow them to turn an online match into a real hookup.

All romantic connections on Mixxxer are based on physical attraction and chemistry, so be sure to put your sexiest photos in your dating profile to drum up a lot of matches and messages from casual sex seekers.
While Mixxxer allows singles to blur their photos and mingle anonymously, those safety features don't make it safe for work. The URL alone is enough to raise eyebrows and start rumors at the office. As tempting as it may be, stay away from Mixxxer until you get home and have the freedom to get off.
17. FreeHookupAffair
The overall goal of FreeHookupAffair is pretty simple. It introduces adults to local sex partners and lets them decide where to take their relationship. Some engage in long-term affairs, while others are satisfied with a one-night stand.
FreeHookupAffair features a video chat forum, booty call list, and chat roulette system that helps sex-driven folks have a good time.

We don't have hard numbers regarding FreeHookupAffair's online traffic, but the sex site claims to have millions of members, and members say their inboxes become flooded with private messages soon after signing up.
FAQs: What Does NSFW Mean?
NSFW is an internet tag that means "not safe for work." It means don't click that link or view that post if you are at work. Employees could get into serious trouble, not to mention answer some very awkward questions, if they are found goofing off (or jerking off) on NSFW sites.
A simple Google search should yield a lot of NSFW websites that tantalize and titillate anonymous sex seekers. The NSFW subreddit offers a lot of erotic posts and propositions by Reddit users that have no business taking place during business hours. Then again, sometimes it's exciting to take risks and be a little naughty on the internet. Just be sure to clear your browser history when you're done.
What Are NSFW Dating Sites?
NSFW dating sites are platforms where adults go to pursue sexual pleasure. These sex sites tend to offer sexting chat tools and strip videos to set the mood, and they usually don't blur, hide, or prohibit naked photos. Adults can run wild on NSFW dating sites and view sexy content that definitely does not belong in polite society.
How Do NSFW Dating Sites Work?
NSFW dating sites aren't too hard to figure out. They're stocked full of eye candy, and all it takes is a little nerve and charm to get a few sweethearts vying for your attention.
You can typically sign up with an anonymous dating profile by providing an email address or phone number (sometimes neither is required), and you can crop your photos to keep people from identifying exactly who you are. Once your profile or personal ad is live on the site, you can start browsing through sexy photos and videos posted by local singles until you find a person worth messaging.
Are NSFW Dating Sites Safe to Use?
Look, it's easy to get caught up in the thrill of it all and lose your head over someone who says she's a 24 year old model willing to do anything for a guy she hasn't met. But take a moment and really think about the "girl" and her intentions. The sad truth is that not every person you meet online is what he or she seems. Slow down and be a little skeptical if things are looking too good to be true.
While many adult dating sites have cracked down on sex workers and sex trafficking — particularly in the wake of the Backpage shutdown — they do not run background checks and often fail to identify unsavory characters until they start behaving badly.
Singles may have to do a little digging on their own to make sure a person is telling the truth and has the Facebook profile or LinkedIn page to prove it.

Fake profiles and bots tend to be more common on the sex dating sites that have fewer verification features and profile requirements. Just think about it. If you can sign up anonymously, so can any romance scammer looking to take advantage of lonely, horny, or desperate people.
A common ploy is pretending to be famous or wealthy to gain a person's trust. The fake profile even may use a celebrity pic in the dating profile. But, trust me, Kendall Jenner doesn't need to go on a sex platform to meet people.
What Search Features Are Included on NSFW Dating Sites?
A NSFW platform tends to keep things pretty simple. It will typically offer search filters for age, location, gender, and appearance, but it may skip other lifestyle filters found on a more traditional online dating site. Some sex-driven platforms have kink or fetish searches or online-now filters to help singles get frisky with a stranger ASAP. But don't expect a lengthy quiz on what you're looking for in a potential partner.
How Do I Know How to Choose the Best NSFW Dating Sites?
A NSFW dating site appeal to adults with high sex drives and few inhibitions. They're looking for a judgment-free space to chill out, practice their flirting game, and find a sexual release. And the NSFW content gives them all that and then some.
Definitely do not visit any website or app on this list unless you are out of the office and are browsing the web on your own time — and well away from prying eyes. These NSFW dating sites feature a lot of nudity, so it'll be obvious what's going on after one look at the computer or smartphone screen. Don't say we didn't warn you.
Advertiser Disclosure
DatingAdvice.com is a free online resource that offers valuable content and comparison services to users. To keep this resource 100% free, we receive compensation from many of the offers listed on the site. Along with key review factors, this compensation may impact how and where products appear across the site (including, for example, the order in which they appear). DatingAdvice.com does not include the entire universe of available offers. Editorial opinions expressed on the site are strictly our own and are not provided, endorsed, or approved by advertisers.
Our Editorial Review Policy
Our site is committed to publishing independent, accurate content guided by strict editorial guidelines. Before articles and reviews are published on our site, they undergo a thorough review process performed by a team of independent editors and subject-matter experts to ensure the content's accuracy, timeliness, and impartiality. Our editorial team is separate and independent of our site's advertisers, and the opinions they express on our site are their own. To read more about our team members and their editorial backgrounds, please visit our site's About page.