7 Best Anonymous Hookup Apps (Oct. 2023)
The best anonymous hookup apps don't demand that users write a biography or post half a dozen pictures on their dating profile. Some of these platforms don't have a signup process at all. Some don't even ask for real names. Online daters can get down to business on sites with no signup or apps for sexting.
If you'd prefer to date on the down low, you're not alone. Millions of people go online every day (and especially late at night) to explore romantic possibilities without anyone being the wiser.
The world's top online sex sites have thrived by offering incognito browsing, anonymous matchmaking, and other privacy-focused features. Anyone can put on a sexy persona and have fun chatting up strangers on the following adult dating apps.
Relationships: Hookups, Chats

Match System: Search by encounter, location, and more

Our Experts Say: "BeNaughty is a premier hookup app where you can feel comfortable expressing your desires. Plus, it's free to join, browse, and flirt..." Full Review »

Browse Free: View Photos Now
| | | | |
| --- | --- | --- | --- |
| User Base | Gender Ratio | Popularity (Visits/Mo.) | Today's Deal |
| All Singles* | | 13.3 Million* | Browse Profiles Free |
BeNaughty offers an anonymous sex playground where people can keep their real names and real lives separate from their online dating experience. This naughty sex site does not require users to share much information beyond their age, gender, and sexual orientation.
BeNaughty users can choose to write a flirty headline, answer questions about their physical appearance, or submit a profile picture. Or they can stick to the basics and browse incognito for a discreet hookup.
During the average day, BeNaughty users exchange approximately 8.5 million messages. All female users can chat for free on BeNaughty as long as they have an approved picture. Male users are allotted more limited messaging features with their free accounts and must upgrade if they want a conversation to go further than hello.
Relationships: Hookups Only

Match System: Search by location, interest, more

Our Experts Say: "Make no mistake: this site isn't about making friends, it's about short-term "hookups" and affairs only. Note that a basic account costs $14.95/month, but it's well worth it if casual sex is your goal..."

Browse Free: View Photos Now
| | | | |
| --- | --- | --- | --- |
| User Base | Gender Ratio | Popularity (Visits/Mo.) | Today's Deal |
| All Singles* | | 25.5 Million* | $14.95/Month |
Adult Friend Finder ranks at the top of this list because its database has over 105 million members, all of whom browse and flirt anonymously. The AFF signup process only requires a username, an email address, an age, and a ZIP code.
Photos are optional, but encourages. Users with photos tend to get more attention, especially if those photos are more revealing than you'd find on apps like Tinder.
Our experts count Adult Friend Finder among the best hookup sites because it offers anonymous browsing of a lot of X-rated content.
The AFF community is full of sexy singles and swingers looking for casual chats and hookups. The site has kinky groups, chat rooms, and video broadcasts where people can mix things up, and members can also send private messages and likes to build a romantic connection.
Relationships: Hookups, Casual Dates, Affairs

Match System: Search by age, location, appearance, and more

Our Experts Say: "With its massive user base and advanced privacy features, Ashley Madison is the #1 site for discreet hookups, dates, or relationships..." Full Review »

Browse Free: View Photos Now
| | | | |
| --- | --- | --- | --- |
| User Base | Gender Ratio | Popularity (Visits/Mo.) | Today's Deal |
| All Singles & Attached* | | 65 Million* | Start Now for FREE |
Ashley Madison was designed to facilitate affairs and secret relationships, so it is easily one of the best anonymous hookup apps you can find. This nonjudgmental space encourages single and not-so-single people to explore their romantic options on the down low.
When it launched in 2001, Ashley Madison stirred up controversy for aiding and abetting cheaters. However, not all its members are interested in outright cheating. Some just want to have a flirty chat and blow off steam online. Some are hoping to fulfill a fantasy, find a friend with benefits, or gain clarity on what they want.
Ashley Madison has over 65 million members worldwide, and about 60% of surveyed members said they're looking for casual sex.
Relationships: Hookups Only

Match System: Search by location, interest, more

Our Experts Say: "A hookup site specializing in casual encounters, secret affairs, live chats, and member videos, FriendFinder-X skips the awkward "dating" stage of a relationship and fast-forwards straight to the sex..."

Browse Free: View Photos Now
| | | | |
| --- | --- | --- | --- |
| User Base | Gender Ratio | Popularity (Visits/Mo.) | Today's Deal |
| Singles & Couples* | | 1.2 Million* | Browse Members Free |
FriendFinder-X is a hookup site for local singles and swinger couples. The dating service does everything possible to foster a casual encounter that could lead to casual sex. It starts by keeping online dating profile details to a minimum and only requiring an email address for ID verification purposes.
It's 100% free to create a FriendFinder-X account and explore the anonymous chat room, photo gallery, and erotic blog posts. Users should know that free messaging is not part of the deal though. Members must upgrade to a weekly or monthly subscription to enjoy private messaging and video chat features. Couples in an open relationship can use a shared account on FriendFinder-X and only have to pay once for both partners to access the dating pool.
Relationships: Hookups, Casual Dating, Chats

Match System: Search by age, location, gender, orientation, and other factors

Our Experts Say: "Flirt.com frees singles to chat with attractive locals and pick up dates on the spot. This hookup site is always open to horny and sexy people seeking one-night stands, casual dating, threesomes, and other sexual encounters..."

Browse Free: View Photos Now
| | | | |
| --- | --- | --- | --- |
| User Base | Gender Ratio | Popularity (Visits/Mo.) | Today's Deal |
| All Singles* | | 1 million* | Browse Profiles Free |
As a casual hookup site, Flirt.com does exactly what its name promises and gives singles lots of flirting opportunities. Users can text message each other in the live chat window, or they can send a virtual wink or share a private photo. Flirt.com sets automatic distance parameters, so singles don't have to travel far to pick up a date.
A woman can send and receive unlimited messages on Flirt.com, which shares a network with OneNightFriend. A paywall for male users ensures that women aren't overwhelmed by sexual come-ons and can focus on each sex chat that comes her way. If you're looking for a casual relationship, you can start by upping your flirt game on Flirt.com.
Relationships: Daters & Hookups

Match System: Search by age, zip code, more

Our Experts Say: "MenNation is a well-established gay dating and hookup brand, having been founded in 1996. It's totally free to join, view profiles, receive matches, and flirt..."

Browse Free: View Photos Now
| | | | |
| --- | --- | --- | --- |
| User Base | Gender Ratio | Popularity (Visits/Mo.) | Today's Deal |
| Singles & Couples* | | 780,000* | Start for Free |
Over the last 20 years, MenNation has supported gay, bisexual, bi-curious, and queer men who want to embrace the sexy side of life. The gay hookup site offers a completely anonymous atmosphere where guys can take on a persona and explore their sexuality in private.
MenNation has browsing and search tools available for singles and couples who are interested in gay sex. Some members like to get in the mood by watching live model shows or jumping into a group chat room, while others feel more at ease having one-on-one conversations in the messaging app.
Whether you're looking for a gay hookup buddy, a sugar daddy, or a threesome, MenNation can help by hooking you up with attractive and like-minded guys.
Relationships: Hookups Only

Match System: Search by location, interest, more

Our Experts Say: "LesbianPersonals provides a fun, quick, and easy experience for gay and bisexual women looking for sex online. Join for free, and you'll be able to search and communicate immediately..."

Browse Free: View Photos Now
| | | | |
| --- | --- | --- | --- |
| User Base | Gender Ratio | Popularity (Visits/Mo.) | Today's Deal |
| Singles & Couples* | | 500,000* | View Profiles Free |
LesbianPersonals is a lesbian hookup site where anything can happen. Millions of single women and couples have joined this female-friendly dating service in hopes of finding a sexy woman to take to bed.
It's important to note that LesbianPersonals is a mobile-friendly site, not a hookup app. That means new users do not have to download anything on Google Play or the App Store. Instead, the site allows access to its X-rated content by using a web browser and entering in login details (username and password). Privacy-conscious individuals may want to clear their browser history after they're done to remove all evidence of their lesbian dating fantasies.
8. Grindr
Grindr is a popular gay dating app that many single guys use as a gay hookup app. Since 2009, the app has been downloaded over 27 million times. It currently sees nearly 4 million daily active users, many of whom are down for casual sex.
A gay man can have fun swiping, matching, and chatting on Grindr without revealing a lot of private information about himself.

The Grindr app uses location data to identify nearby date prospects and suggest matches that are within walking or driving distance. The local dating tools can be an excellent wingman during a night out on the town. For instance, if you see a hot guy at a gay club or bar, you can do some quick swiping to see if he has a Grindr profile. That way, you don't have to shout to deliver a pickup line and show your interest.
Grindr is well-known as the best dating app for male users seeking a one-night stand with a same-sex partner, and many a casual encounter takes place on this anonymous hookup app.
9. Tinder
Tinder has rightfully earned the reputation as a casual hookup app. Its swiping scene has created over 60 billion mutual matches since 2012. The Android app and iPhone app have been downloaded more than 530 million times. What's more, according to Tinder's internal stats, the app is responsible for about 1.5 million first dates every week.

The Tinder app gives new users the option to sign up through their Facebook account, but this isn't a requirement. It is faster and easier than using a phone number though. Connecting through social media speeds up the signup process by automatically pulling a person's demographic information and photos.
Tinder does not post anything on Facebook, so your Facebook friends will not see any of your online dating activity. If you're not comfortable linking your Facebook account, worry not — many dating apps work without Facebook, and Tinder just so happens to be one of them.
10. Pure
Pure has powered a straightforward and sex-positive space that's open to adults of all stripes. This dynamic dating app guarantees absolute privacy and anonymity throughout the browsing experience. A user's dating ad is only visible while that person is actively browsing for dates on the app, and all conversation windows automatically self-destruct after 24 hours.

Pure has been downloaded over 8 million times on the App Store and Google Play. It doesn't mess around when it comes to introducing active daters and facilitating sexually liberating encounters. The hookup app has text messaging, voicemail, and video chat features to spur instant connections.
Our full review of Pure dives deeper into this sexy dating pool and all the casual fun it can offer to local singles on the prowl.
11. Kasual (formerly Yumi)
Kasual (aka Yumi) has marketed itself as a casual chat app for NSA (no strings attached) dating, so it doesn't ask users for any personal details. No social media. No phone numbers. No email addresses. Even photos are optional. Kasual members provide a name and location to complete their profile. They can choose to write a bio or leave it blank.

Love and romance are in the cards on Kasual. The Flip Cards, that is. The matchmaking game engages users by asking them to flip a dating card to unlock a conversation and get something going with a potential match.
To date, Kasual has been downloaded over 5.1 million times and has inspired about 1.2 million casual connections.
12. DOWN
DOWN is an online dating app where singles can be honest about their intentions. Every potential match comes with a choice — a user must choose to identify themselves as down for either a date or a hookup. The invite will make it clear what type of online dating experience that person expects.

Singles can more easily establish chemistry and mutual attraction when they're on the same page. And that's what the DOWN hookup app is all about.
"Our aim is to provide a simpler experience with more user satisfaction from minute one," the DOWN team said. "We want to spread sex positivity and honesty and help people worldwide be more successful in their dating lives."
13. Feeld
In 2014, the Feeld app launched with an empowering message for the poly daters of the world. The app's founder has been in a loving open relationship, and he wanted to normalize the couples dating experience.
Whatever dating adventure you desire is available in this judgment-free zone. The app can facilitate open relationships as well as nonbinary dating, fluid romances, and one-night stands.

Feeld is more than just a threesome or hookup app. It promotes all types of kinks and has 23 sexual preference options on the dating profile. Our full review goes into greater detail regarding Feeld's inclusive features and sex-positive mission. If you're poly or a swinger, this may be the best hookup app to explore a casual relationship without judgment.
14. Wild
Being single is about being free, being independent, and being wild. The Wild dating app is perfectly named because its sexually promiscuous users are anything but tame.
Wild has ranked among the top free dating sites on the market because it doesn't charge a single penny for its search, chat, and matchmaking tools.

Wild offers free communication to all users, and it also has a photo verification feature to ensure online daters are being authentic. Over 400,000 Wild users have opted to verify their photos and get a checkmark on their dating profile. That checkmark can be a vote of confidence and create a good foundation for trust, romance, and love to grow.
15. Hud
Hud is a hookup app that features an endless scrolling list of profiles and a lot of sexy icebreakers. Hud members can add kinks and fetishes to the Bedroom section of their profile and let potential matches know what to expect.
"Hud is the hookup app for everyone," the team said. "Hud is about making connections, no matter who you are, what you identify as, or what you're looking for."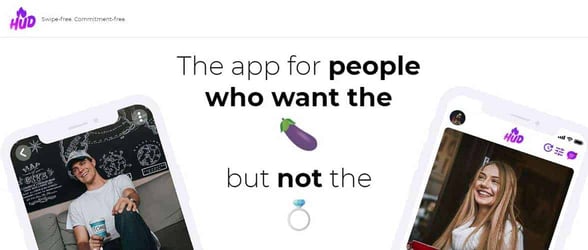 Hud recently became the first dating app to integrate with SAFELY App to facilitate STD checks and import verified STD results, which can appear on Hud profiles. This is 100% optional and can be a good way for casual sex seekers to keep themselves safe and healthy even as they play the field.
16. FetLife
Fetishes can be taboo topics on mainstream dating apps, but that's not the case on FetLife. This kinky community encourages people to talk openly about their desires for BDSM, tickling, anal, and other sexual experiences.
One the founding principles of FetLife is to support all types of romantic connections between consenting adults. As long as members behave with respect and kindness, they can get up to all sorts of sexy mischief on the discussion boards.

From the dating profiles to the chat rooms, FetLife empowers kinksters to go after what they want and find partners who are open to experimentation and fantasies.
FetLife has 9.7 million members worldwide, and it has facilitated over 10 million discussion posts. The site has published more than 53 million photos, 1.2 million videos, and 900,000 event listings.
17. The Bro App
Finally, The Bro App provides a relaxed environment for single guys who want to make new gay friends and ease themselves into a new relationship. This app has departed from the traditional get-sex-now mantra of its competitors by building a more respectful and friendly dating environment.
"I wanted to make a safe space both for people who were recently out or not sure of their sexuality," explained The Bro App Founder Scott Kutler. "Just men looking for other guys."

The Bro App can certainly lead to guys hooking up — but it's not all about swiping for sex. This app recognizes the power of the bromance and doesn't put pressure on men to be sexual right away. Gay and bisexual singles can simply send a fist bump, strike up a conversation, and see what happen.
How Do I Go About Choosing the Best Anonymous Hookup App?
Our list of the best anonymous hookup apps includes many popular and efficient options, and they're all free to join. So go with your instincts and choose the one that appeals to your sexual desires the most.
An online dating site review can give you the numbers and explain the features — it cannot predict what your individual dating experience will be like. Some singles report getting fast results on a swiping app, while others thrive in an anonymous chat room. Maybe a free dating app is right for your budget, or maybe you feel it's worth fronting some cash to meet a new friend or potential partner.
How Do Anonymous Hookup Apps Actually Work?
Having a casual encounter in an anonymous chat room is pretty easy. The first step is to create an account on a sex website or download a casual dating app on your iPhone or Android device. Some anonymous sex platforms may let you browse as a guest, meaning you can skip the profile creation steps altogether.
However, for security purposes, some apps may want to verify your identity through an email address or phone number. Uploading a photo is typically optional, but doing so can be a sign of good faith and engender greater trust in the online sex community.
Make sure to look at the platform's photo guidelines to know what type of pictures are acceptable. Some sex apps will allow nude or semi-nude pics, while others will automatically delete nudes.

Once you've completed your dating profile, it's time to start looking for a local date. This journey begins by being clear about what you're looking for in a potential partner. An anonymous app will usually have search filters regarding appearance and background. App users can set an age range, distance radius, and other dating preferences to narrow the dating pool to the most viable and attractive profiles.
Swiping apps often facilitate mutual attraction by requiring both app users to like each other's profile before they can send a message. Free chat apps usually do not have such a rule in place and allow for a more lively online dating experience where anyone can send a message and solicit an instant hookup.
Is Coffee Meets Bagel a Good Sex App?
Short answer: No. Longer answer: Coffee Meets Bagel is a popular dating app that was designed to limit the number of matches a single person can make in a day and inspire deep personal connections. While Coffee Meets Bagel can technically be used for casual dating, it's not going to get the kind of fast results you'd see on a more straightforward sex app.
Singles typically download the Coffee Meets Bagel app because they're looking for a real relationship, so mentioning sex could actually be a turn-off in this environment.
"I started off CMB by being very upfront about my sexual needs," said a single woman on Reddit. "I thought it was important to mention as to not waste any time. This apparently came off as intimidating and aggressive."
Are Anonymous Hookups Apps Really Safe to Use?
Some security issues can come into play when some anonymous hookup apps fail to verify incoming users or screen for a fake profile. But it is safe to use these sex apps as long as you are careful not to be too trusting too quickly. Some profiles may not be what they appear at first glance, so it's important to show some restraint and exercise good judgment when meeting new people online.
Always vet a new love interest to ensure the connection is real and the photos are authentic. An easy (and safe) way to do that is by arranging a video date through Skype, Zoom, or the dating platform.
Or, if you're not comfortable with using video chat tools, ask the person to send you a selfie or provide a link to an Instagram or Facebook account.

A scammer can take advantage of the anonymous nature of an adult dating site and use it to meet marks undetected. Online daters should know the warning signs of a romance scam, so they know to be on their guard if a person asks to switch over to an international chat app or refuses to engage in a video chat or phone call.
Romance scammers may try to sell a sob story to get money, but it is never OK to send money to a person you've only met online.
One last safety tip: Never agree to meet a stranger in a private location (i.e. your home or their home). Always start your first date at a public spot — bars and coffee shops are good options — and then you can always transition to a more private and intimate location once you've established some trust.
Stay Anonymous & Pick Up a Date Online
If you're tired of filling out dating profile questionnaires and quizzes, then an anonymous sex scene may be more your speed. The best anonymous hookup apps have fewer ID requirements and more flirtatious opportunities than mainstream dating apps.
It's free to join every app on this list, so members don't even have to submit credit card information to start their next online dating adventure. All you need is a valid email address, and you're good to start swiping and sexting. Have fun!
Advertiser Disclosure
DatingAdvice.com is a free online resource that offers valuable content and comparison services to users. To keep this resource 100% free, we receive compensation from many of the offers listed on the site. Along with key review factors, this compensation may impact how and where products appear across the site (including, for example, the order in which they appear). DatingAdvice.com does not include the entire universe of available offers. Editorial opinions expressed on the site are strictly our own and are not provided, endorsed, or approved by advertisers.
Our Editorial Review Policy
Our site is committed to publishing independent, accurate content guided by strict editorial guidelines. Before articles and reviews are published on our site, they undergo a thorough review process performed by a team of independent editors and subject-matter experts to ensure the content's accuracy, timeliness, and impartiality. Our editorial team is separate and independent of our site's advertisers, and the opinions they express on our site are their own. To read more about our team members and their editorial backgrounds, please visit our site's About page.