9 Best Sites for Casual Encounters (Oct. 2023)
Casual encounters have become more and more common in the modern dating scene. Many young singles are less interested in getting into a relationship and more interested in getting into someone's pants.
About 49% of American adults have had three or more sexual partners, and many express no regrets about having casual sex.
Popular dating sites and apps can lead to sexual activity and help singles gain confidence in their flirtation skills. It's pretty easy to attract dates on these open-ended platforms, but you'll need to pick one that caters to your needs and desires. We've laid out an assortment of hookup sites and apps where you have the best odds of enjoying casual sex with a willing partner.
Overall | Free | LGBTQ | New | Legit | Discreet | Like Craigslist | UK | FAQs
Top Casual Encounter Sites (#1-2)
Casual dating sites can offer a dating free-for-all where people aren't in a hurry to make a commitment. These singles typically date multiple people at once, but sometimes they attract a regular friend-with-benefits (FWB) or booty call. Such casual relationships can become serious with time, but that's hardly the goal.
The following dating sites encourage singles and swingers of all sexual persuasions to keep things light, pursue their desires, and see what happens.
Relationships: Hookups, Chats
Match System: Search by encounter, location, and more
Our Experts Say: "BeNaughty is a premier hookup app where you can feel comfortable expressing your desires. Plus, it's free to join, browse, and flirt..." Full Review »
Browse Free: View Photos Now
| | | | |
| --- | --- | --- | --- |
| User Base | Gender Ratio | Popularity (Visits/Mo.) | Today's Deal |
| All Singles* | | 13.3 Million* | Browse Profiles Free |
BeNaughty supports a global network of sexually active adults, and its easy-to-understand tools can get you in the fast lane of the online dating scene. Powered by Together Networks Limited, BeNaughty is currently up and running in 10 countries, including the U.S., the U.K., France, and Canada.
It's free to sign up to BeNaughty, and you can fill your dating profile with sexy details about yourself. You can even post a status to let a potential partner know where your head is at. If you really want to attract attention, you can upload a video to your profile as well.
The quickest way to make a match on BeNaughty is by spending a few minutes swiping through profiles in the Like Gallery. Note: Only BeNaughty members with approved photos can send likes or messages on the hookup app or site. This is for everyone's safety online.
Relationships: Hookups Only
Match System: Search by location, interest, more
Our Experts Say: "Make no mistake: this site isn't about making friends, it's about short-term "hookups" and affairs only. Note that a basic account costs $14.95/month, but it's well worth it if casual sex is your goal..."
Browse Free: View Photos Now
| | | | |
| --- | --- | --- | --- |
| User Base | Gender Ratio | Popularity (Visits/Mo.) | Today's Deal |
| All Singles* | | 25.5 Million* | $14.95/Month |
Since its launch in 1996, Adult Friend Finder (AFF) has liberated singles and swingers in the hookup scene. This dating site has made millions of connections among its members, and it supports one of the largest sex-driven communities in the world.
Millions of men, women, and couples have created profiles on AFF and tried their luck in an adults-only forum. Not only does AFF offer unlimited profile browsing, but it also sweetens the deal with daily nude cam chats and live model shows.
Whether you're flirting in private messages or sharing erotic stories on the public blog, you can come out of your shell and pursue your desires thanks to Adult Friend Finder.
Top "Free" Casual Encounter Sites (#3-6)
Depending on where you live, the average date can cost anywhere from $38 to $297. Most casual daters aren't willing to shell out that much cash on a short-term fling, so they cut costs where they can. Maybe they go to a coffee shop for a date instead of a restaurant. Maybe they suggest splitting the bill instead of picking up the whole check.
Another way to save valuable dollars and cents in the hookup scene is by finding a free dating site where you can get in touch with local hotties without paying a fortune.
Relationships: Hookups Only
Match System: Search by location, interest, more
Our Experts Say: "A hookup site specializing in casual encounters, secret affairs, live chats, and member videos, FriendFinder-X skips the awkward "dating" stage of a relationship and fast-forwards straight to the sex..."
Browse Free: View Photos Now
| | | | |
| --- | --- | --- | --- |
| User Base | Gender Ratio | Popularity (Visits/Mo.) | Today's Deal |
| Singles & Couples* | | 1.2 Million* | Browse Members Free |
As a casual dating site, FriendFinder-X operates under the motto, "where good girls do bad things." The platform is open to singles and couples of all orientations, and it doesn't require users to give their real names, so people can discuss their fetishes and desires in an anonymous space.
Over 94 million members have joined the FriendFinder-X network so far, and the site continues growing larger and more diverse every day.
While signing up is free, local couples and singles typically get more value by upgrading to Gold Membership. On average, Gold Members receive 10 times more responses to their messages on FriendFinder-X.
Relationships: Hookups, Casual Dates, Affairs

Match System: Search by age, location, appearance, and more

Our Experts Say: "With its massive user base and advanced privacy features, Ashley Madison is the #1 site for discreet hookups, dates, or relationships..." Full Review »

Browse Free: View Photos Now
| | | | |
| --- | --- | --- | --- |
| User Base | Gender Ratio | Popularity (Visits/Mo.) | Today's Deal |
| All Singles & Attached* | | 65 Million* | Start Now for FREE |
Since 2002, Ashley Madison has been a go-to wingman for single and not-so single folks around the world who are looking for affairs, threesomes, and other casual encounters. This dating site uses your preferences and the most up-to-date technology to create matches that can turn into dreams into reality.
Signing up for Ashley Madison is totally free, and you can quickly browse through prospects to generate compatible matches and scintillating conversations.
Ashley Madison offers a fun way to break the ice and meet up for drinks before taking a potential match home with you. As the team says, "Life is short. Have an affair."
Relationships: Hookups, Casual Dating, Chats
Match System: Search by age, location, gender, orientation, and other factors
Our Experts Say: "Flirt.com frees singles to chat with attractive locals and pick up dates on the spot. This hookup site is always open to horny and sexy people seeking one-night stands, casual dating, threesomes, and other sexual encounters..."
Browse Free: View Photos Now
| | | | |
| --- | --- | --- | --- |
| User Base | Gender Ratio | Popularity (Visits/Mo.) | Today's Deal |
| All Singles* | | 1 million* | Browse Profiles Free |
Flirt.com is a free personals site available to singles who are in the mood to party. You can discover new friendships and romances by mingling in this footloose and fancy-free dating community.
People of all orientations and fetishes can browse Flirt.com for free and make genuine connections with people in the area. Members can send up to five messages a day for free, and they also have the Like Gallery and FlirtCast tool to help them drum up potential matches on the sex site.
6. Tinder
Tinder should be a no-brainer for anyone looking for a fast date. Since its launch in 2012, this dating app has created over 75 billion matches in over 190 countries. All in all, the Tinder team estimates it's responsible for over 1.5 million dates per week.
That is a lot of flirtatious action stimulated by Tinder's signature mutual matching system. Only a mutual match can send you a message on Tinder, so everyone in your inbox has your seal of approval.
Free members are limited to a certain number of likes per day, but Tinder Plus and Tinder Gold subscribers have unlimited likes as well as five Super Likes.

When Tinder invented #SwipeLife, casual daters around the world rejoiced. This dating app has been a game changer for singles in the casual hookup scene. Now they have a world of romantic options at their fingertips, and all it takes is a few good swipes to land a hot date and bring a little spice to their love life.
It's no wonder that Tinder has become the go-to dating app for casual and serious daters alike. Young singles have come to rely on Tinder to pick up dates, boost their confidence, and stave away boredom.
Top "LGBTQ" Casual Encounter Sites (#7-8)
According to a Match survey, the typical gay man has had 30 sexual partners, and the typical lesbian woman has had 12 sexual partners. What's more, 56% of LGBTQ+ singles said they have been in a romantic relationship with a person they met online.
Many lesbian, gay, bi, trans, and queer singles have embraced online dating as a way for them to connect with their type of people and pursue sexual relationships without judgment. We've picked out three of the top hookup sites and apps for LGBTQ+ daters of the world.
Relationships: Daters & Hookups
Match System: Search by age, zip code, more
Our Experts Say: "MenNation is a well-established gay dating and hookup brand, having been founded in 1996. It's totally free to join, view profiles, receive matches, and flirt..."
Browse Free: View Photos Now
| | | | |
| --- | --- | --- | --- |
| User Base | Gender Ratio | Popularity (Visits/Mo.) | Today's Deal |
| Singles & Couples* | | 780,000* | Start for Free |
MenNation prides itself on being the world's largest men-only hookup site. Only single men and gay couples can join this network. It's the ideal place for finding a guy willing to get down and dirty.
MenNation has chat rooms, video broadcasts, blogs, and straight-up private messaging tools to facilitate flirtation between sexy singles.
The online dating scene can be tough for marginalized groups, including gay men, but MenNation does its level best to promote a positive and safe atmosphere. The adult dating site has a channel where users can report abuse or inappropriate content, and the team takes every complaint seriously.
Relationships: Hookups Only
Match System: Search by location, interest, more
Our Experts Say: "LesbianPersonals provides a fun, quick, and easy experience for gay and bisexual women looking for sex online. Join for free, and you'll be able to search and communicate immediately..."
Browse Free: View Photos Now
| | | | |
| --- | --- | --- | --- |
| User Base | Gender Ratio | Popularity (Visits/Mo.) | Today's Deal |
| Singles & Couples* | | 500,000* | View Profiles Free |
As one of the largest lesbian dating sites around, LesbianPersonals is full of  possibilities for women looking to liven up their nights. The site has fostered a female-friendly atmosphere since its launch over a decade ago.
Single women have flocked to this casual hookup platform in hopes of building a romantic relationship. LesbianPersonals has couples categories so that lesbian and straight daters can join the fun as well. The straight couples who create a personals ad here are typically looking for a unicorn — a bisexual woman who enjoys threesomes — to be their girlfriend or polyamorous partner.
On LesbianPersonals, members can exchange photos and video chat or use the live instant messenger system to chat all night long. It takes less than five minutes to set up a LesbianPersonals dating profile, and then you have instant access to thousands of lovely ladies.
Top "New" Casual Encounter Sites (#9-10)
Studies suggest that over 60% of college students have had a casual sexual encounter, but hookups aren't just a young people thing. In a Match Group survey, 45% of senior singles said they were open to having a friends-with-benefits relationship, and 27% said they would have a one-night stand.
Hookups aren't for just one age or one gender. Hookups are for everyone — of all different genders and lifestyles. No matter how old you are, it's important to shake things up and try something new if you want to live life to the fullest.
Relationships: Hookups, Casual Dating, Chats

Match System: Search by location, age, and appearance.

Our Experts Say: "OneNightFriend is a dating website that provides a fast track to a one-night stand with a flirty partner. The network has chat rooms, search filters, and safety features to help spark real connections..." Full Review »

Browse Free: View Photos Now
| | | | |
| --- | --- | --- | --- |
| User Base | Gender Ratio | Popularity (Visits/Mo.) | Today's Deal |
| All Singles* | | 500,000* | Browse Profiles FREE |
OneNightFriend is a relatively new hookup site on the block, but it's got a lot to offer singles seeking casual encounters. The platform's entire purpose is to facilitate sexting and one-night stands on the down low. No strings, no commitments, no judgment.
Forget Craigslist casual encounters, this casual hookup site is the embodiment of hookup culture and fosters a lot of sexual experimentation and sexual activity.
It takes less than five minutes to create an OneNightFriend profile. You fill in your basic information, choose a sexy photo, and you're off to the races.
OneNightFriend is an adult-only site, and it maintains a safe, mature dating environment for anyone over 18. Members can report inappropriate content or fake users directly to the site. If you run into trouble and need assistance, contact the OneNightFriend customer service team to file your complaint.
10. HUD
In the context of the dating world, HUD does not stand for the U.S. Housing and Urban Development Department, it stands for Hook Up Dating. This dating app promises a swipe-free and commitment-free dating experience. Instead of swiping on a single photo, users scroll through profiles and can send chat requests to any potential sex contacts they desire.
Whether you're interested in sexual experimentation or finding a casual relationship, you can use this casual hookup app to meet single men and women who feel the same way.

Communication is 100% free on HUD, which is available in 22 languages. You can also send private photos in the chat window. In 2018, HUD released female-friendly features, including photo protection blurring and profile blocking.
HUD lets users scroll through profiles and enjoy unlimited free communication with anyone they fancy. HUD launched in 2015 to mix things up in the online dating scene and challenge the swipe-crazed status quo. Today, HUD has over 11 million users in more than 147 countries.
"Such a great app to find singles," said a user in a Google Play review. "Even just to talk with them but ultimately it's a great place to find the right snatchy."
Top "Legit" Casual Encounter Sites (#11-12)
There are over 2,500 dating sites in the U.S., and thousands more all over the world. Finding a dating site isn't a problem, but finding a good one can be tricky. Many singles wonder which dating sites are legit and which are just not worth the time. It can take some trial and error to discover which dating sites are the real deal.
Fortunately, we've put in the hours and figured out which dating platforms offer legitimate matchmaking services for casual daters who want to have hot sex without the complication of an emotional attachment or serious relationship.
11. DOWN
DOWN has differentiated itself in the hookup scene by facilitating discreet encounters between single and not-so-single people. If you want to have some fun on the down low, this dating app is made for you. Over 6 million people have downloaded the app and sought adult relationships.
"We think a lot of singles are tired of the guessing games when they get matches on other apps," said the DOWN team. "They're struggling to learn how to date well in this brave new dating app world. We're aiming to lead the way to better dating and hooking up."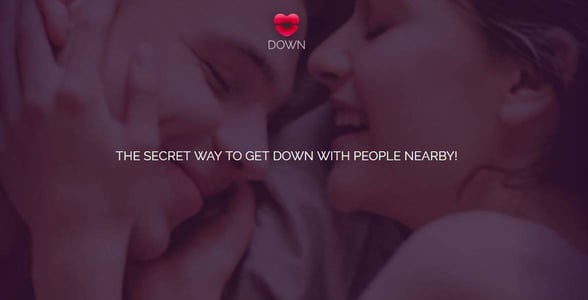 DOWN offers a fast and secret way to meet sexy men and women in your area. You sign up via Facebook to verify your identity, but you'll browse anonymously on the app. Users won't see your real name or personal information. All they'll know is your first name, age, and location. Users can't even see that you've liked them until they like you first.
Overall, DOWN is a safe, private dating network where no-strings-attached sex is just a few swipes and messages away.
12. SaucyDates
SaucyDates is a straightforward dating site where naughty singles can attract flings of all kinds. The site offers a mobile-friendly interface where you can chat in real time with anyone you like. The site's free messaging and location-based searches are among its chief claims to fame.
Safety is a top concern for the SaucyDates team, and it offers robust blocking and reporting tools to allow users to keep offending members off their screens.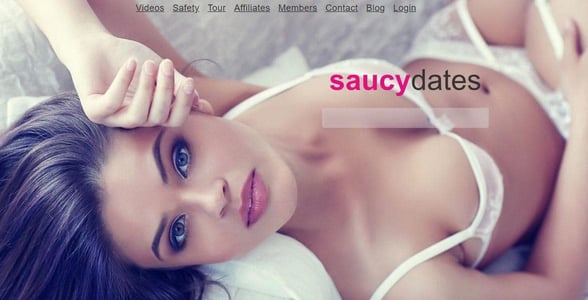 SaucyDates is an award-winning dating site recognized by iDate and the U.K. Dating Awards as among the top in its field. In recent years, the site has focused on developing features that appeal to women and that keep them safe from harassment as they explore their sexuality.
To use the words of the site, "Our members are looking to put the physical side of a relationship right at the top of their list."
Top Discreet Sites (#13-14)
Discretion is often important to singles in the hookup scene. Maybe you don't want your family, your church, or your coworkers to know what you're up to in your private time. You shouldn't have to sacrifice your good reputation to flirt on a dating site, so join a network that will keep your secrets and give you the space to meet people anonymously.
13. Feeld
Feeld began in 2014 as one man's passion project, and it has grown a social movement that supports unconventional romances around the globe. Feeld offers its users a judgment-free zone where they can seek whatever type of relationship or non-relationship they desire. Couples can even pair their accounts and explore date prospects as a team.
Over 1.8 million people have joined Feeld, the world's leading polyamorous app, and the platform has fiercely guarded its users' privacy. Its Incognito feature helps Feeld members stay under the radar and avoid their Facebook friends while browsing profiles and sending messages to perfect strangers.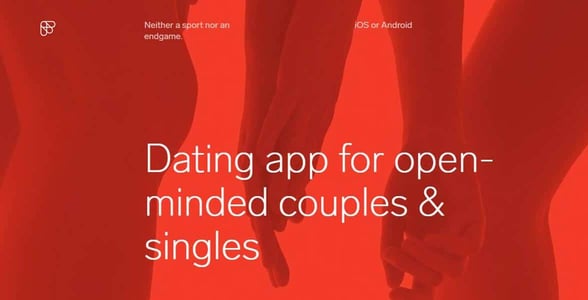 Feeld gives people of all genders and sexual identities a place where they can belong and seek deep human connections. This dating app is dedicated to supporting a nonbinary view of the dating scene and allowing all types of casual and serious encounters to bloom.
According to Feeld's manifesto, "Feeld is about inclusivity, acceptance and respect. Discrimination, intimidation or marginalization of any kind has no place in our community. Preserve the open, honest, respectful attitude in your interactions with others."
14. Pure
Finally, Pure is a dating platform that is purely for hookups. The team characterizes it as "the sex app for awesome people," so you just know it's going to be fun.
This app is all about short-term relationships. All conversations are deleted within an hour, so you only have a small window of time to flirt with someone and arrange an in-person meeting.


As a casual dating site, Pure operates under a simple code of conduct: 1) ask for what you want, 2) don't talk about your problems, and 3) pretend like you're strangers afterward. Once the romantic tryst is over, Pure advises the lovers to go their separate ways and not text, call, or even wave to one another in public. Your time together is over, and it's time to move on to the next match.
"I've had nothing but good experiences with it," said Tejor in a review on iTunes. "I love that it's direct and to the point like I am and like all the people I've met."
Top Casual Encounter Sites "Like Craigslist" (#15)
Craigslist closed its dating personals section in 2018 after Congress passed the Fight Online Sex Trafficking Act, which says that website owners can be held civilly and criminally responsible for unlawful acts conducted via online personals.
As lawmakers seek to bring greater transparency and accountability to online dating personals, many websites implement their own safety standards and policing methods to protect users. If you're looking for an alternative to Craigslist personals, you can try the following casual personals.
15. Lucky
Lucky is an anonymous hookup app that only requires a name, gender, and selfie to get started. You don't even have to show your face in the photo. You can choose how long your profile will be available and meet people on your schedule. Users can set their profiles to expire within one, three, or six hours, and that time crunch puts the pressure on singles to meet up or exchange contact information right away.
You don't have to beat around the bush on Lucky. The singles on this casual dating app know they don't have long to make something happen, so they're often glad to cut to the chase.

Once you've made a mutual match, you can send messages, exchange photos, leave a voicemail, or share a location to meet. You don't have to wait around for days or weeks hoping a match turns into a date. Lucky gets everyone chatting and motivates them to arrange a hookup.
Lucky is a good alternative to Craigslist personals because it offers more matching and verification tools to help genuine single men and women meet one another.
According to the FAQ page, "Lucky isn't just a dating app. Lucky is first-of-its-kind software that is designed entirely around the idea of hookups that take place within hours of use."
Top "UK" Casual Encounter Sites (#16-17)
Over 20 million people in the U.K. log into a dating site every month, and 59% of British people say online dating is a good way to meet people. Whether you're looking for a first date or a no-strings hookup, you can mingle with hotties on a U.K. dating site. We've selected two sites that appeal specifically to singles in the U.K.'s casual dating scene.
16. TapDat
TapDat is a UK dating service geared toward casual encounters online and offline. The team embraces sex positivity and helps singles take control over their love lives and be honest about what they want.
Something that makes TapDat stand out in the casual dating world is its discretion and photo guidelines. App users won't see dick pics and nude photos while swiping on this online dating app. TapDat keeps a clean interface, so browsing profiles at home, work, or a coffee shop is easy and safe.

TapDat has verified profiles, message filters, and a reporting system to keep away the creeps, scammers, and a fake profiles that can pile up on sex sites.
The casual dating site aims to be a cut above the rest by providing straightforward search tools to help members find a sex partner with similar interests and desires. The casual sex site maintains a fun chat room where adults can be a little naughty without crossing the line.
17. Locanto
Locanto is a free classifieds website with over 13 million ads posted for jobs, housing, and dating. Its network stretches from Aberdeen to York and beyond. Posting an ad on the site is similar to posting an ad in the local paper — except its run-time is unlimited, and it reaches a much wider audience online. Plus it's free!
You don't have to write a biography about yourself to land a date on Locanto. Most singles just post their age, location, and what they're looking for.

Locanto has classified ads sections dedicated to casual encounters between straight, gay, and transsexual singles, and it also has sections for couples seeking women, couples seeking men, and couples seeking couples. You can also browse personals services, including massages, strippers, and escorts. Anyone hoping to spice up their love lives will have tons of options on Locanto.
Are Casual Encounter Sites Safe?
Think of casual encounter sites like they're bars or clubs. The owners and management team can enforce certain rules and kick out unsavory characters, but they can only do so much to protect patrons from each other. You have to do your part to stay safe while you flirt and solicit casual sex encounters in a public place.
"Websites, in general, are as safe as the person visiting." — Buster Smith, Quora
Singles can stay safe on hookup sites as long as they take reasonable precautions and stay alert. You should vet your dates in online conversations and only agree to first dates in public locations. Once you feel comfortable with that person, then you can take things to a more private locale. Just remember: Until you've met in person, you have not really met that person, so proceed with caution.
As a savvy online dater said in a Quora post, "Websites in general are as safe as the person visiting. If you're visiting a website and wildly clicking on links with little thought, you can easily and quickly find yourself in some trouble."
What is Whiplr? Is It Still Active?
Whiplr was a casual dating site that catered to open-minded men and women who enjoy kinky sex and adventurous dates. This hookup site connected playmates in the BDSM and fetish community, but sadly it is no longer operating.
The Whiplr dating app made a big splash when it launched in 2014, and its sex-positive content attracted over 1.2 million users at its peak. A VICE review called the app "delightfully loosey-goosey."

Whiplr offered a playful dating space with advanced filters for over 230 fetishes organized by category (objects, odors, shopping). It had just about everything kinksters could want in terms of technology. The team promised, "If you don't find something that excites you, you're probably vanilla." It will be missed.
What Does "NSA," "M4W," "W4M," "M4M," and "W4W" Mean?
Dating has its own code language that can be hard for newcomers to translate, but that's what the internet is for. Most of the terms you'll see on dating profiles are referencing the person's orientation or relationship goals. NSA means no strings attached. If a personal ad says they're looking for something NSA, it means they want to keep things casual and not get attached.
M4W, W4M, M4M, and W4W are also terms you'll often see on dating profiles and personal ads. M4W stands for "man looking for women," and M4M stands for "man looking for men." On the flip side, W4M stands for "woman looking for men" and W4W stands for "woman looking for women."
How Do You Reach Out to Someone on a Casual Dating Site?
Reaching out to your online crush on a casual dating site is as simple as writing, "Hey, how are you?" and clicking send. It may not be the cleverest comment in the world, but you've made contact and expressed interest, and that's enough to get the ball rolling.

Don't overthink your first message. You may be tempted to make some clever pun or say something smooth, but our dating experts recommend singles drop the pick-up lines and just be real. Singles can usually tell when a compliment is insincere, and they're only going to groan at an overused pun, so throw out your playbook and say something true.
OkCupid advises its users to nix the netspeak and avoid physical compliments when making an initial overture. These types of messages were statistically less likely to receive responses on the site. The data also indicates that it's a good idea to mention specific interests or ask a question to give your date something to reply.
Casual dating sites tend to encourage singles to skip the small talk and get right to the point, so you don't have to delve too deep on that initial message. Honestly, as long as you're polite and reasonably coherent, you'll be fine.
Which Sites Don't Require You to Sign Up?
Many dating personals sites, like LuvFree and Doublelist, allow people to browse the database without signing up. You can conduct an adult search and view as many profiles as you want, but you'll have to create an account if you want to send a message.
Every dating or hookup website's registration process is going to be a little different. Some allow singles to sign up using an email address. Others require phone numbers or social media accounts. However, make no mistake, pretty much all dating platforms are going to want some proof of personhood before they give you free rein on the site. The registration process is how social sites can deter scammers and identify fake profiles.
We've already reviewed dating sites that work without Facebook so you can take your pick and post your wanted ad immediately.
Now Go Pick Up a Hot Date on Sites for Casual Encounters
About half of singles are dating for keeps, while the other half are content to play the field and make no promises about the future. The casual dating scene can offer a lot of short-term pleasure and excitement, and it doesn't take much effort to have sexy fun times in a singles chat room or on a dating site.
If you want to explore your sexuality and put a couple more notches on your bedpost, you can join a hookup site that supports a hot singles network and casual sex encounters.
The casual hookup sites and apps on this list can satisfy your needs and open you up to new sexual experiences. The flirtatious atmosphere of a dating site for casual encounters could be just want you need to become a more confident and sexually active guy or gal.
One of the best things about casual dating is the freedom to explore and up figure out what works for you.
Advertiser Disclosure
DatingAdvice.com is a free online resource that offers valuable content and comparison services to users. To keep this resource 100% free, we receive compensation from many of the offers listed on the site. Along with key review factors, this compensation may impact how and where products appear across the site (including, for example, the order in which they appear). DatingAdvice.com does not include the entire universe of available offers. Editorial opinions expressed on the site are strictly our own and are not provided, endorsed, or approved by advertisers.
Our Editorial Review Policy
Our site is committed to publishing independent, accurate content guided by strict editorial guidelines. Before articles and reviews are published on our site, they undergo a thorough review process performed by a team of independent editors and subject-matter experts to ensure the content's accuracy, timeliness, and impartiality. Our editorial team is separate and independent of our site's advertisers, and the opinions they express on our site are their own. To read more about our team members and their editorial backgrounds, please visit our site's About page.